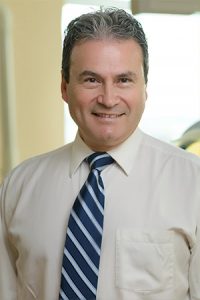 Dr. Roger Goncalves, General Dentist, moved into the Vancouver area over 30 years ago when he began his dental career studying at the University of British Columbia.  After earning his Doctor of Dental Medicine (B.Sc. Microbiology UBC 1977, D.M.D. UBC 1982) he soon became a principal partner helping to establish six dental clinics in the lower mainland, including a North Shore location. Dr. Goncalves decided to focus his attention on his North Vancouver private practice full-time in 1987.
Both Dr. Goncalves and long-time friend and partner, Dr. Ho, opened their office at Harbourside and relocated their practices to the new location in 2003. Moving allowed the doctors to provide a beautiful and comfortable environment for their patients, in addition to creating an efficient and pleasant workspace.
The focus of Dr. Goncalves' practice has always been patient care and he prides himself on placing this as his top priority. He continues to practice routine general dentistry and many patients are those he began treating at the beginning of his career. The pursuit of continuing education since the 1980's has also allowed Dr. Goncalves to further develop his skills in restorative and cosmetic dentistry. His focus on esthetic and restorative dentistry allows him to provide multiple treatment choices to his patients.
Dr. Goncalves devotes many hours to study clubs and courses to continually improve his techniques and develop his skills in new procedures. His pursuit of excellence has had him attending courses all over Canada and the United States including the prestigious Pankey Institute in Florida. Becoming a member of this institute enabled Dr. Goncalves to develop his skills in dentistry allowing him to perform challenging reconstructive dentistry with wonderful results.
"Advances in dentistry have allowed me to provide many of my patients with beautiful smiles, something they may have never imagined. Seeing a patient flash a confident smile is extremely fulfilling."
Dr. Goncalves is a proud husband and father. He and his wife Cheryl live on the North Shore where they enjoy skiing and snowboarding as well as hiking. They can often be found at their two sons' soccer games both to cheer them on and as volunteers. Dr. Goncalves also has an avid interest in photography and enjoys woodworking.